My name is Jenia. Meng Zai are my surnames.
I live in Australia
and enjoy researching everything in the Universe
I am a scientist,
a philosopher
and an artist.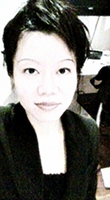 I am philosophically Taoist, interested in all cultures, languages and religions. I did retreat for more than ten years and wrote a book about the Universe.
I also produced many world-class projects and inventions.
My current research focus on unity of science, spirituality and cultures. I worked extensively in the areas of data science and digital media (creative industry).
Height: 159CM
Weight: 48KG
Chinese Zodiac: Monkey
Homepage: http://JMeng.GoodEasy.info
Contact Email: info@JMeng.GoodEasy.info
I like making new friends